"Level 4 AV technology might be ready before Level 3 insurance regulation amendments are ready"
Content item
Our future is automated self-driving cars, we're told. Much of the technology is far beyond infancy, honed near perfection and already used in Advanced Driver Assistance Systems (ADAS) like lane departure warning and automatic emergency braking. In Ontario and some American states, they can even be driven among us. While frontrunners like Tesla duke it out with the not-far-behind legacy manufacturers (and Mercedes just one-upped the upstart in Germany), one thing is clearly emerging: having the vehicles is only one piece of the puzzle.
Content item
Just ask the auto insurance industry.
"Canada is not ready to insure even partially automated vehicles (AVs), but the move towards fully-automated vehicles could be here by as early as 2026," warns this article from Canadian Underwriter. With Canada's patchwork of provincial insurance legislation, it promises a tangled path forward. "Current legislation does not adequately consider accidents involving Level 3 automation, and will likely fail to address considerations around even higher levels of autonomy."
You're probably familiar by now with the designations of autonomous vehicles: Level 0, no autonomous features; Level 5, fully automated and requiring no driver. In practical applications, we are currently mucking about between levels 2 and 3, both of which still require a driver to be ready and able to take control of the car.
Content item
Level 3 vehicles are not currently legal on North American roads, though that hasn't stopped legions of Tesla owners (most notably) from testing the limits of the deceptively-named Autopilot in their cars — to sometimes tragic results. There are currently ongoing investigations by NHTSA into 30 similar events. The problem with technology that is outstripping the pace of legislation is an "if you build it, they will come" sort of situation: drivers know what their cars can hypothetically do, even if it's not yet street legal. And even if their insurance expressly doesn't cover it.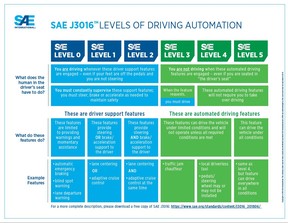 From JD Power: "Level 3 is known as conditional driving automation. It uses various driver assistance systems and artificial intelligence to make decisions based on changing driving situations around the vehicle. People inside the vehicle do not need to oversee the technology, which means they can engage in other activities. However, a human driver must be present, alert, and able to take control of the vehicle at any time, especially in the case of an emergency due to system failure."
Content item
Most manufacturers are extremely cautious in how they advertise the abilities of driver assistance technologies — and stress "assistance" over "replacement". Most manufacturers.
The development and deployment of autonomous vehicles right now is being fostered in tighter applications, small fleets deployed for deliveries working in a geofenced area. Companies like Cruise explores the tangible, real-world ways to make autonomous vehicles good for cities and the environment. This is where we should be looking to learn the necessary steps to full automation.
Ten years ago, readers were asking when they would see savings on their insurance premiums because they'd purchased vehicles which sported the latest and greatest in crash-avoidance and occupant-protection technology. The expectation stood to reason: if you invest in something that will cut payouts, you should see savings. It did happen; it costs more to insure an older car than a newer one, all other things being equal. The problem? Premiums declined in one area while lurching ahead in another.
Content item
Who's at fault when an autonomous vehicle gets into a collision?

Most Canadians don't want to own an autonomous vehicle
Debbie Arnold is a broker with Sound Insurance. "Repairs are far more expensive on the newer vehicles because of all the sensory components. For example, five years ago a bumper might have cost $750 to replace, whereas now it's $3,000. The vehicle ratings have not caught up to the repair costs," she says. She notes much of a premium is understood of liability and accident benefits. "Physical damage comprised a small portion of the premium comparatively, largely because physical damage is a finite cost. This will slowly change once repair costs catch up to ratings."
In other words, the insurance industry is moving at glacial speed in an industry that is strapped to a rocket. "In a worst-case scenario, Level 4 AV technology might be ready before Level 3 insurance regulation amendments are ready," says Canadian Underwriter.
Content item
In fact, the entire car insurance industry could be rendered unrecognizable by a shift to autonomous vehicles. If driver error is removed from the crash scenario — and nearly all crashes are caused by driver error — it stands to reason that the vehicle manufacturer should be held responsible for any damage or injury caused by their product. If a product fails, we go after the maker. If we remove impaired, distracted, and speeding drivers, we clean up the whole field.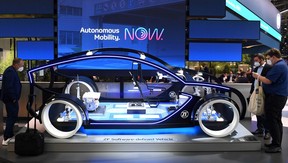 This report from Car and Driver parses the details of the insurance world post-autonomy, but even they can't see a time without insurance. "However, some accidents may still happen because of manufacturing errors. These accidents will have victims, and the owner of the autonomous vehicle will need medical and repair bills." I can understand needing insurance against theft or comprehensive damage, but if I have no control over the operation of a vehicle beyond feeding in some commands, I'm going to be hard-pressed to be held accountable when my car bluescreens because its maker screwed up and I end up burning a fiery death.
There is deep allure in considering the chance we could eliminate the tens of thousands of fatalities and injuries that occur on North American roads every year. Cutting congestion, exploring car-sharing, giving mobility back to those who don't have it, getting rid of drunk drivers – all of it. But legislation can't be a just-in-time commodity. The insurance industry is getting a head's up to prepare — now.